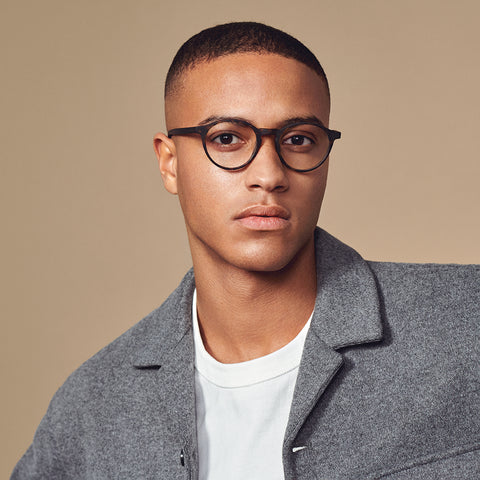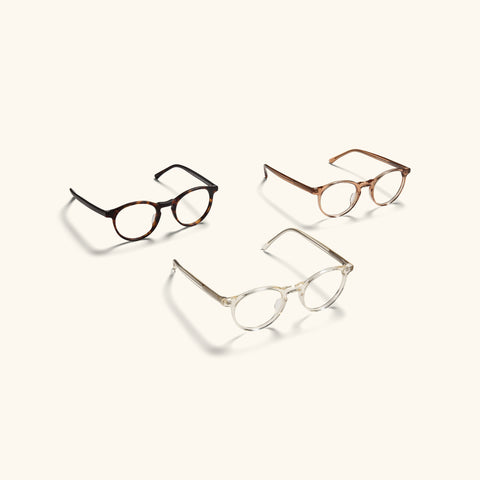 If round and curvy is your thing, you just found your match.
Product Details

All frames are designed in Denmark and hand-made from 100% Italian biodegradable acetate. All hinges are premium quality German OBE hinges, made from minimum 60% recycled steel. Our adult sizes (Small — Large) have rubber coated screws for improved friction and longevity and the kids sizes have flex hinges for increased flexibility. Our kids sizes are aslo equipped with adjustable rubber end tips for improved comfort and fit.
Size & Fit

All our styles are unisex and available in up to five sizes to fit kids, grown-ups, and in-betweens. Below is a guide of how to find just the right size for you. If any questions don't hesitate to contact us here

XXS is recommended for ages 5-8 — Browse XXS frames
XS recommended for ages 9-12 — Browse XS frames
Small is recommended for teens and narrow faces — Browse S frames
Medium is recommended for average faces — Browse M frames
Large is recommended for wide faces — Browse L frames
Colors & Codes

Our color palette consists of carefully curated colors, chosen not only to complement various skin tones, but also to look beautiful together and at the same time complement each other. Below is our color options and color codes. Some colors are offered as both matte and shiny. If any questions don't hesitate to contact us here

001 — Black
002 — BrownBlend
003 — Clear
004 — Grey
005 — Yellow
006 — Beige
007 — Brown
008 — Pink
009 — Oyster
010 — Teal
Recycled Soft Case Kit

Every purchase includes a recycled leather case and cleaning cloth made from recycled plastic bottles.

Our Soft Case is made from 100% recycled leather and natural latex. It comes in two sizes: Small for frames sized XXS — S and Large for frames sized M — L and contains a cleaning cloth made of 100% recycled PET (polyethylene terephthalate).
Clip-Ons

Get instant shade and 100% UV-A and UV-B sun protection with our custom made Clip-Ons. Our Clips are equipped with premium G15 lenses with an anti-reflective coating on the inside and a hard coat on the outside for improved comfort and durability.

The adult clips, S — L, are available in Matte Black with green G15 lenses.

The kids clips, XXS — XS, are available in Matte Black, Matte White and our signature color Black Splash — all with green G15 lenses.
Care Instructions

Sustainability is a lot about buying less and choosing quality. But longevity and how to treat your products right is also crucial. ​​​​​​​​
​​​​​​​​
Below is a quick guide of how to clean your glasses like a pro and keep your lenses in top condition.​​​​​​​​
​​​​​​​​
1 / Rinse the glasses with lukewarm water. Avoid hot water, which can damage the coatings of your lenses. ​​​​​​​​
​​​​​​​​
2 / Apply a tiny drop of gentle dish soap to your fingertips and gently rub both sides of the lenses.​​​​​​​​
​​​​​​​​
3 / Rinse both sides of the lenses with lukewarm water and dry gently with our recycled microfiber cloth.​​​​​​​​